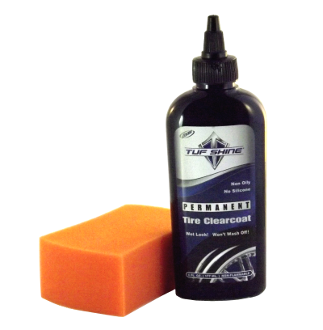 6 OZ Tuf Shine Tire Clearcoat
This revolutionary tire dressing will outperform any other tire dressing you have ever used. The water-based formula contains NO silicones or oils, and provides a shine that will last for several months. If you are tired of product sling and temporary gloss on your sidewalls, Tuf Shine is your solution. This stuff is amazing!

TUF SHINE Tire Clearcoat dries to the touch in just seconds and will not crack. If you are tired of using "run of the mill" tire dressings that leave an oily, sticky residue and attracts dust and dirt, then this is the product for you.
TUF SHINE Tire Clearcoat is the complete opposite. It seals the rubber and keeps factory lubricants from escaping. Superior protection against cracking and oxidation of sidewalls due to weathering. It has anti-static properties that repel dust, dirt and water.

TUF SHINE Tire Clearcoat will coat and seal whitewalls and raised white lettering to keep them looking bright and white. This remarkable tire finish will not turn brown and there is no "spin-off" or residue of any kind. It will withstand repeated pressure washings. TUF SHINE Tire Clearcoat is perfect for rubber floor mats as well, just clean surfaces with TUF SHINE Tire Cleaner and apply TUF SHINE Tire Clearcoat to restore mats to a "better than new" appearance.
Directions:
1) Tires must be cool and dry. Do not apply in direct sunlight or in temperatures below 50 degrees F.
2 ) Shake product thoroughly and apply a small amount to the applicator sponge.
3) Apply to white walls and white letters first and allow to dry for five or more minutes. This will seal the white areas.
4) Apply a thin even coat to the rest of the tire following the circular pattern of the tire.Slight milky build up is fine, smooth any runs. The Tire  Shine will dry clear. If any any black residue is drawn onto the the white areas, wipe off immediately with a clean damp towel. Allow to dry between coats. One or two coats will produce a rich black tire appearance. Three or four or more coats will deliver a very glossy tire with maximum shine.
5) Tuf Shine Tire Clearcoat is permanent, unlike other tire shine dressings. Wipe any residue from wheels and painted surfaces before it dries.
6) Rinse the applicator sponge with water so it is ready for future use.
---
We Also Recommend
---