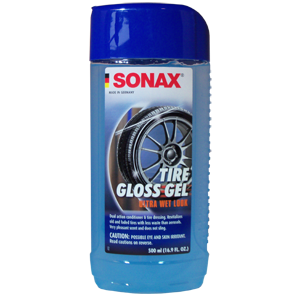 Sonax Tire Gloss Gel (500 ml)
SONAX's chemist have been working on a new tire dressing formula and their hard work has created the amazing SONAX Tire Gloss Gel. It's a different style of tire dressing that is designed to restore and condition the rubber by hydrating and revitalizing the rubber. It uses a specially engineered silicon that gives you the shine and durability you desire. This tire dressing should give you a rich semi-glossy finish that makes the tires look better than new. If you want an overly glossy appearance wait at least 15 minutes before applying a second coating, however most people love the shine from just one coat. Since the formula can be absorbed in by the rubber it bonds to the tire really well and doesn't sling. Each container should help you complete over 50 tire applications. The durability is also great as the fresh shine last several weeks and does not wash off at the first sign of rain. So get the shine you are looking for by cleaning and conditioning your tires in one simple step with the SONAX Tire Gloss Gel.
A durable tire dressing that doesn't fade when it rains
A dark and rich semi-gloss appearance really grabs your eye
Get over 50 tire applications from one bottle!
DIRECTIONS FOR USE:

Wash heavily soiled tires with SONAX Gloss Shampoo and allow to dry.
Pour approximately a 5 cm long (2 inch) strip of SONAX Tire Gloss Gel on an application sponge and evenly massage into the tire.
Guide the sponge upright along the contours of the tire.
If necessary, repeat the procedure until the desired degree of shine is obtained.
Move the vehicle slightly to treat the underside of the tires.
Squeeze excess gel residue out of the sponge and clean with an absorbent cloth.
PLEASE NOTE: Do not apply SONAX Tire Gloss Gel onto the tire treads or brake system. This product is not suitable for motorcycles or bicycles. Do not apply to interior or other rubber components (i.e. foot mats, door and window seals).
---
We Also Recommend
---