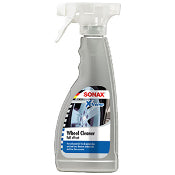 SONAX Wheel Cleaner 500ml
SONAX Wheel Cleaner is a highly effective, environmentally friendly, acid free and ph balanced rim and wheel cleaner that is safe for all wheels including aluminum and alloys. This formulation is also just as effective and safe on painted wheels and it will not deteriorate clear coats.
Sprays on fluorescent green and changes colour to a deep red shade as it reacts with contaminants on your wheel. This colour change lets you know that the formula has broken down, softened and loosened contaminants that can now be easily removed by a stream of water.
SONAX Wheel Cleaner is a safe but powerful wheel cleaner that is designed to chemically react with the sintered iron particles (brake dust) that are embedded into the surface of your wheels. By dissolving these corrosive iron particles, SONAX Wheel Cleaner provides a noticeably cleaner surface than traditional wheel cleaners!
This is the wheel cleaner that professional detailers reach for when they are faced with badly neglected, dirty wheels.
---
We Also Recommend
---