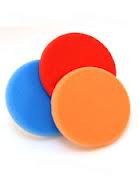 3" Lake Country Hydro Tech Cyan Blue Finishing Pad (3 " Inch) "
ake Country Hydro Tech Cyan Blue Finishing Pad (3 " Inch)
Lake Country is going to change the way you detail your vehicle with the Hydro Tech Cyan Pad. It has the ability to give you far more cutting power and finish down even smoother than previous pads. Use it to apply medium and heavy cutting polishes because it has just slightly less cutting power than the traditional yellow cutting pad. However it finishes down better than the orange light cutting pad, helping you get noticeably more cutting power while leaving minimal haze behind, if any. This is possible due to a special European foam that utilizes a closed cell design or non-reticulated design. It will absorb far less polish so the polish remains on the surface and can be continuously worked in to the paint. Now you have a longer work time and better results with this superior pad. Get more from your favorites polishes and buffer with the new Lake Country Hydro-Tech Cyan Advanced Cutting Pad.

Please note: Lake Country Hydro Tech Pads may not be as durable as traditional Lake Country pads.
Powerful cutting action but the ability to finish down haze free
Hydro Tech foam keeps more polish on the surface of the pad for longer work time
Experience less dusting than traditional foam pads due to less product build up
Lake Country Snappy Clean Pad Cleaner help clean these pads
Works great with the Meguiar's M 105 and M205 Compounds  as well as Menzerna Super Intensive Polish SI 1500
3" Diameter - .875" (7/8") Thick
---
We Also Recommend
---