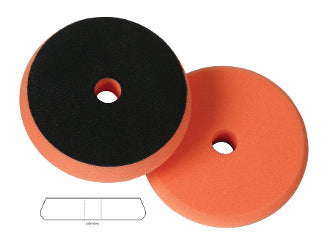 Lake Country Force Orange Cutting Pad 6.5 " Inch
Lake Country Force Orange Cutting Pad 6.5 " Inch (Specially formulated for use with forced Rotation Machines such as Flex VRG 3401 and similar)
The Lake Country Force Orange Cutting Pad will help you remove light to medium imperfections that are common in virtually all vehicles! Take a minute, stand back and really look at your paint. If you notice ugly swirls, spider webbing, holograms, etc., this pad could be exactly what you are looking for to make them ancient history. To apply, pair with your favorite cutting polish and work section by section. Once you are finished, you will be amazed at the level of imperfections that have been removed with very minimal effort. The secret to this corrective power comes from the hybrid foam technology, which is highlighted in full below. This foam is extremely dense, making it very durable and allowing it to resist collapsing from too much heat. All these strengths combined help you get better results and your pad will last longer than traditional pads.


If you think you may have heavy imperfections, the Force Grey Heavy Cutting Pad will work great.
If you want to further refine your polishing, the Force White Polishing Pad or the Force Black Finishing Pads should be your choice.
What are "Force" Pads?

The Force Line of Pads is an upgrade of the popular Lake Country Hybrid pad line. The Force line features the same awesome Hybrid Foam Technology that was used in the Hybrid line, just tweaked for a more user friendly experience. This foam is super dense, which increases durability and keeps the polish you are using from absorbing into the pores and cells of the pad. This means the polish is left on the surface of the pad, allowing you to have a longer work time and achieve better results faster. Force pads are 1.25" thick and buffer pads in general have started to shrink in overall thickness. The .875" (7/8") thick pads you are seeing pop up today, produce less heat and work great on Dual Action (DA) polishers. With forced random orbital (i.e. Flex XC 3401 VRG and Rotary polishers, detailers have found that thicker pads, which many companies have been moving away from, can actually be easier to work with and bring you better results. Do not forget that these Force pads also work great on your Dual Action polisher. Some people like the thin pads for less heat generation, but if you like thicker pads, the Force Pads are great!

Force Pad Sizes and Measurements:
1" Pads: Measure 1.5" x .75" with a 1.25" backing (NO center hole). Made to fit 1" Backing Plates
2" Pads: Measure 2.5" x .75" with a 2" backing (NO center hole). Made to fit 2" Backing Plates
3" Pads: Measure 3.5" x 1.25" with a 3" loop (NO center hole). Made to fit 3"Backing Plates
5.5" Pads: Measure 5.5" x 1.25" with a 5" loop (with center hole). Made to fit on 4-3/8" and 5" Backing Plates
6.5" Pads: Measure 6.5" x 1.25" with a 6" loop (with center hole). Made to fit 5.5" and 6" Backing Plates

Force Pads Corrective Power:

Each Force Pad will be labeled on the bag to help signify the power of the pad. Below are the pads in order with #1 being the strongest cutting pad through #5 which is a very soft pad used to apply sealants, liquid waxes, etc.
Grey - #1
Orange - #2
White - #3
Black - #4
Red- #5
---
We Also Recommend
---