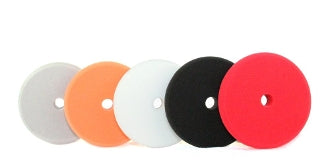 Lake Country Force Pad 5.5" Inch Kit
Lake Country Force Pad 5.5" Inch Kit (Especially designed for use on Forced Rotation machines such as Flex VRG  3401 and similar)
We have hand picked each item in the Lake Country Force Pad 5.5" Kit because they are highly effective when paired together. To create the best kit possible we utilize our years of detailing experience, combined with input from some of the best detailers around the country. We are confident you will get outstanding results with each item and really enjoy how your vehicle looks afterward.
Package Description
Here's a little more information about each of the items included in the Lake Country Force Pad 5.5" Kit. You can click the link to visit the product page for a full description:
Lake Country Force Black Finishing Pad (5.5 ") - achieve maximum depth and gloss with this easy to use pad
Lake Country Force Grey Heavy Cutting Pad (5.5") - strong cutting foam pad designed to remove swirls and ultra fine scratches
Lake Country Force Orange Cutting Pad (5.5") - foam pad that removes light to medium imperfections when paired with a cutting polish
Lake Country Force Red Ultra Fine Finishing Pad (5.5") - safely and easily apply your favorite liquid wax or sealant
Lake Country Force White Polishing Pad (5.5") - remove fine imperfections like swirls, spider webs, oxidation, etc.
If you have questions about this package or any of our products, don't hesitate to  Contacts Us. We're always happy to help!
---
We Also Recommend
---