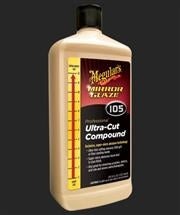 Meguiar's Ultra-Cut Compound M105 32 Oz.
Meguiar's Ultimate Compound 105 is what many professional detailers turn to when they need results. This product was developed for Meguiar's Professional Mirror Glaze line for anyone who wants top notch results. You can remove deep imperfections and finish the paint down nicely, even when using some of the more aggressive pads. You'll be amazed at how quick and effective 105 works on any type of paint. Even though M105 finishes down nicely on certain finishes, we still recommend following up with a finer polish and pad combination for maximum results. This is a great polish to use with either a random orbital buffer or a rotary, typically using an orange light cutting pad, yellow cutting pad or a purple foamed wool pad. See why so many top professional detailers keep Meguiar's Ultra-Cut 105 in their detailing arsenal.
Very effective at cutting through deeper imperfections
Finishes down nicely, but we still recommend a finishing polish after 105
Commonly used with an orange medium cutting pad, yellow heavy cutting pad or purple foamed wool pad
DIRECTIONS: SHAKE WELL. Always work on a cool, properly cured paint surface.

DA application: Work one section at a time. Apply directly to appropriate Soft Buff 2.0 Foam Pad. Set machine to 4-5. Apply moderate pressure on initial 2-3 passes followed with light pressure for following two passes. Wipe off residue immediately after each panel.

Rotary application: Set rotary buffer to approximately 1500-2000 RPM's. Use with Meguiar's Wool Pad. To prime new or dry pads, mist on M34 Final Inspection. Apply M105 Ultra-Cut Compound directly to the paint surface and begin working in a 2' x 2' area with overlapping passes. Continue working until defects or sanding marks are removed. Wipe remaining residue with a Meguiar's Ultimate Wipe (M9910) prior to polishing. For final polishing, choose the appropriate Meguiar's foam pad and M205 Ultra Finishing Polish, or your favorite Meguiar's polish.

PAINTABLE: Safe on all paint finishes including Scratch Resistant Clear Coat finishes.

TIPS: For best results use with Meguiar's W4000 Cut 'N Shine Wool Pad. For pad maintenance and ultimate results, clean pad frequently. For optimum results on OEM paint use a lower speed setting (1200-1500) and less pressure. For less aggressive cutting use Meguiar's W7000 Foam Cutting Pad. M105 is excellent for rubbing out door jambs, and spot hand compounding. Simply apply to a soft cloth, we recommend our Meguiar's Ultimate Wipe (M9910), and rub desired area. Wipe residue with clean side of towel.
---
We Also Recommend
---