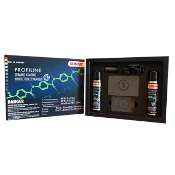 Sonax CC36 Ceramic Coating Kit
The Sonax CC36 Ceramic Coating will bond to your paint, leaving you with an incredibly strong layer of protection that looks stunning. Sealants and waxes will add a great deal of gloss and good protection to your paint, but paint coatings will take that gloss and protection to the next level! The Sonax CC36 is easy to apply and is broken down into two steps. The 1st step is a protective base layer. Use the foam block with the number 1 listed, wrap it with the included suede cloth and apply bottle number one, section by section. After about 30 seconds to a minute wipe away any excess and let the car sit for 30 minutes. After 30 minutes, you are ready for the second step! Using bottle 2 and applicator 2, apply to each section of your car, waiting about 30 seconds to remove any excess. This step applies a glossy hydrophobic layer that will really make your paint pop. After an hour, your car is ready to be driven and brave the various everyday elements. CC36 will protect your paint from road salt, tar, and street and industrial pollution while lasting up to 1 year. If you are looking for an easy to apply, super glossy coatings, the Sonax CC36 Ceramic Coating is a great choice!
Super glossy and easy to apply protective coating
Two step application process
1st step durable protective layer
2nd step glossy hydrophobic layer
"Hard as Glass"
long term protection with exceptional resistance to UV light and chemicals, but also to aggressive environmental influences such as road salt, tar, and street and industrial pollution.
Less maintenance effort due to "Easy-to-Clean" effect
Incredible deep shine with impressive color intensity
Extends the life of the paintwork surface and this actively contributes to preserving the vehicle's value
Directions:
Thoroughly clean the paint and polish it with a machine to a high-gloss finish without any holograms.
The surface should be absolutely clean before sealing.
Then, thinly apply the BaseCoat (1) using the enclosed Application Sponge (white side). For sensitive paint surfaces, also use the enclosed Microfiber Cloth, by wrapping it around the sponge (make sure there are no wrinkles). Always treat small partial surfaces in crisscross sequence. After a short drying time (30 seconds to 1 minute at most), wipe the treated surfaces to be sealed in the same process. Afterwards, allow product to cure for at least 1 hour; make sure the surfaces are not touched and do not get wet during this time.
After the prescribed curing time, apply the GlossCoat (2) to achieve a superior smoothness and deep shine. For this, spray the product onto the enclosed Application Sponge 2 (white side) and spread over all surfaces. Here, you can treat areas of a half bonnet in size, which then need to be wiped over with a Microfiber Cloth Ultrafine to remove excess product (drying is not necessary).
---
We Also Recommend
---