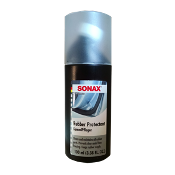 SONAX Rubber Protectant (GummiPfleger) 100ml
The Sonax Rubber Protectant GummiPfleger helps clean, protect and maintain your rubber trim pieces! Trim pieces are often overlooked, but can be the key to taking your detail to the next level. Have you ever seen a car with immaculate looking paint, but ugly faded trim? If so, you know that it can really ruin the overall look. The good news is that cleaning and protecting rubber trim can be really easy using the Sonax Rubber Protectant GummiPfleger! Simply wipe the desired trim with the easy to use foam applicator and you will instantly notice it restoring the rubber trim to a like new appearance. For heavily contaminated trim, clean with an APC (All Purpose Cleaner) before applying the GummiPfleger. Once you are finished, the rubber will look dark and rich, providing an amazing level of contrast and pop from the painted surface. It also helps these rubber pieces be more flexible and durable, so it will not crack and fade from harmful UV rays. GummiPfleger also helps keep your trim looking its best for years with regular applications. Use it all over your rubber molding around the door weather seals, jambs, trunk, sunroof, engine bay, and any other neglected rubber. So what are you waiting for, bring your trim pieces back to life with the Sonax Rubber Protectant GummiPfleger!
Cleans, protects and maintains rubber trim pieces
Leaves behind a dark, like new appearance
Use it on your rubber molding, jambs, engine bay, etc.
Safe for interior and exterior rubber
Easy to apply application sponge tip
Extends the life and refreshes color
DIRECTIONS FOR USE: Shake bottle well. Remove protective cap. Press the bottle onto the rubber several times with the applicator sponge facing downward to release the protective ingredients. Evenly apply and spread SONAX Rubber Care to the dry surfaces using the sponge applicator. Let sit briefly. Wipe over with a cloth. if necessary. Replace the protective cap after use.
---
We Also Recommend
---