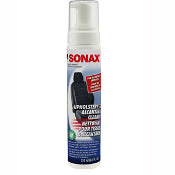 Sonax Upholstery & Alcantara Cleaner 250ml
The Sonax Upholstery & Alcantara Cleaner is an easy to use foaming cleaner, designed to gently, and safely, clean delicate alcantara! Anyone who is lucky enough to have this suede like material in their car knows that alcantara is one of the toughest materials to clean safely. Why is this surface so tough to clean? Well, the issue with Alcantara is that it holds moisture and can stain very easily. Traditional liquid cleaners contain a lot of moisture and can stain the surface with ease. The Sonax Upholstery & Alcantara Cleaner features a high quality foam that is low in moisture and easy to apply. Simply spray dirty areas and gently rub with a very soft natural brush or soft cloth. Let sit for 5-10 minutes and rub it again with a brush or clean microfiber towel, and let dry. We recommend you leave the doors open and use a floor fan to get air flowing and the surface dry asap. Afterwards, vacuum or brush the surface for any loose contamination and to ensure the moisture has been evaporating properly. Repeat these application steps for any heavily contaminated areas. This cleaner will help fight foul odors and will leave behind a clean fresh scent. Are your seats or interior surfaces also leather, vinyl or fabric? Upholstery & Alcantara Cleaner can be used on a variety of surfaces like your carpets, textiles, upholstery, roof liners, and much more. Are you looking for a versatile interior cleaner that is gentle enough to clean alcantara, but strong enough to clean carpets? If so, look no further than the Sonax Upholstery & Alcantara Cleaner!
Safely and easily cleans delicate alcantara surfaces!
Low moisture foam formula
Also works great on carpets, upholstery, roof liners, etc.
Gently and thoroughly cleans all textiles in the car's interior, even delicate Alcantra surfaces. At the same time, the product's odor eradicator quickly and permanently neutralizes unpleasant smells such as smoke and animal smells, etc. Leaves a fresh scent. Does not leave dirt marks.
Directions
DIRECTIONS FOR USE: Vacuum off coarse dirt. Shake bottle well before use. Test fabric for color fastness in an inconspicuous area. Slightly moisten soiled areas. Apply the foam to dirty or soiled areas evenly. Rub in with a brush, moist sponge or cloth to penetrate the dirty areas. Let sit for 5-10 minutes. Rub again with a damp sponge or cloth, and let dry. Afterwards, vacuum or brush. Repeat application in case of especially stubborn soiling.
PLEASE NOTE: After cleaning, use a soft brush to allow the Alcantra surface to "stand up" once again. To avoid differences in color and brightness between treated and untreated areas, the cleaner should always be applied to complete sections (e.g. complete seats.) Keep from freezing.
Keep out of reach of children
---
We Also Recommend
---