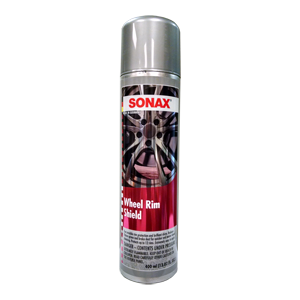 Sonax Wheel Rim Shield (400ml 13.5 FL OZ)
The SONAX Wheel Rim Shield allows you to protect your wheels with one fast and easy to use spray! This incredible formula makes your wheels looks great and keeps them looking great! With your wheels being so close to the road, the amount of contamination coming in contact with your rims can be extreme. From road grime, dirt, oil, bugs, and brake dust, it is easy to see how your rims get filthy so fast. This contamination is not only ugly, but it can be a real pain to remove. So other than cleaning your wheels every day how can you keep them clean regularly? The Sonax Wheel Rim Shield is your answer for not only protecting, but helping you clean your wheels easier in the future! With an easy to handle aerosol can, you can spray Rim Shield directly to your rims in a matter of seconds. First you want to be sure to thoroughly clean your wheels beforehand (Sonax recommends Sonax Wheel Cleaner). After your wheels are dry, just point, spray, and walk away. It is that easy! Rim Shield will last 6-8 weeks after application and according to Sonax, wheels that are coated will require up to 75% less time and effort to clean. You will be amazed at how easily contamination falls off a Rim Shield treated wheel. If you want to quickly and easily protect your rims from harmful dirt and grime, the Sonax Wheel Rim Shield is for you!
Quickly and easily protect your wheels!
Helps protect from dirt, grime, brake dust, etc.
Makes future cleaning much easier
Lasts approximately 6-8 weeks
Safe for all wheels
DIRECTIONS FOR USE:
First clean wheel rims with a wheel cleaner. (e.g. SONAX Wheel Cleaner full effect or PLUS).
Allow the rims to dry completely. Make sure to carefully remove any remaining water from grooves or cavities.
Shake can.
Generously apply product to the absolutely dry wheels - do not wipe!
Allow to dry for at least one hour.
During this time, do not move the vehicle or touch the treated surfaces.
---
We Also Recommend
---