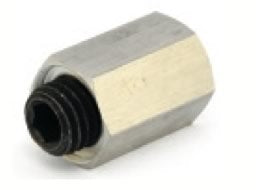 FLEX Rotary Arbour Extender
FLEX  Rotary Arbour Extender for 5/8" Thread Buffers such as the Flex L3403, PE 14-2 150 and the new FLEX PE8 Kompakt Rotary Polisher.
For added clearance you can stack up to 3 of these Extensions to reach those awkward places without making unintended contact with body panels, mirrors, grills or accessories!
Polish small and hard to reach body panels with precision by equipping your rotary polisher with the Rotary Backing Plate Extension!
If you're using a 4 inch or smaller pad on a rotary polisher, more than likely you're polishing small or hard to reach areas like a-pillars or complex body panels. With a small pad, you need to see exactly where the edge of the pad lies and the Rotary Backing Plate Extension makes this possible. By moving the backing plate and pad farther away from the body of the tool, you're more easily able to see the exact contact points of the pad. This ensures you don't run the pad over a body line while also guaranteeing that every surface of the vehicle that has paint gets polished.
 
---
We Also Recommend
---