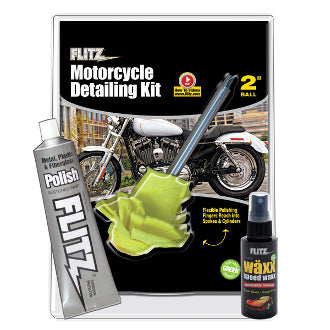 FLITZ Motorcycle Detailing Kit
Flitz Motorcycle Detailing Kit
This tool will help you buff hard-to-reach areas in seconds. Safely & easily. Perfect for polishing bike hardware including plastic tail lights; for removing bluing, road film & burn marks from pipes; removes oxidation and light scratches from plastic windscreens; easily fits in and around engine; perfect for mag or spoked wheels.
The Flitz Buff Ball won't tear like foam. Fits any 3/8-inch drill or air tool. Buffs evenly–no low spots. Buffs at speeds up to 2,500 rpm. Self-cooling. Won't scorch or burn clearcoat. Washable* and reusable.

---
Instructions for use: (1) Properly secure Flitz Buff Ball into drill or air tool (Use only forward or right rotation). (2) Apply a thin coat of Flitz Polish surface. (3) Buff lightly. Increase speed and buff at high speed (up to 2500rpm) for highest luster. (4) Repeat if necessary.
Note: Although any 3/8-inch drill will work, a corded drill will produce higher rpms.

---
Washing & Care of your BüffBall: Each Flitz BüffBall is washable* & reusable. For best results, soak ball around an hour in a bucket of soapy water. Remove from bucket, rinse well and let air dry.
* Washable Guaranteed ONLY when used exclusively with Flitz products.

Kit Includes:
(1) Flitz Polish-Paste 1.7oz
(1) Super-Mini 2"Buff Ball
(1) Flitz Wax Protectant-sample
---
We Also Recommend
---