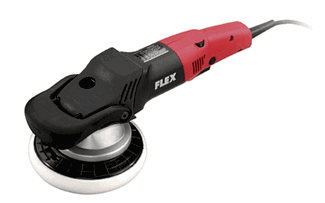 FLEX XC3401 VRG Orbital Polisher
The FLEX XC 3401 VRG is perhaps the most revolutionary Orbital Polisher on the market today. What sets this FLEX apart from other orbital buffers is the "positive or forced rotation" feature. This polisher will not stall or bog down when you put the pressure on it. It combines the perfect blend of premium features, precision control, power and safety. Orbital buffers are much safer than rotary buffers because they generate less heat than a rotary buffer while still providing excellent polishing power. Flex has done an outstanding job combining the best of both worlds by making such a powerful unit that poses virtually no risk of burning factory paint with proper usage. Use the Flex XC 3401 VRG buffer can handle virtually any step from delicately applying your favourite sealant or working in a polishing compound. The ultra smooth power allows you to buff out swirls and fine scratches, so you can restore a transparent clear coat.
. The power of a rotary machine with the ease and safety of an orbital or dual action polisher.
This is a professional grade tool that is safe and easy enough for a beginner to use successfully.
If you only want to buy one polisher in your lifetime this is the one to get.
The FLEX XC3401 delivers the following premium features.
FLEX seven-fold microprocessor electronics: with consistent speed control by tachometer generator, soft start, accelerator trigger switch, restart protection after power interruption, overload protection, temperature monitoring, and speed selection
8 mm orbital movement
Permanent direct drive for an even polished surface
removable, ergonomic knob grip
High-powered motor: can handle extreme loads
Spindle lock
Quality shut-off carbon brushes: if the carbon brushes wear down, the motor will be automatically switched off and thus protected from damage
10" Black power cord
---
We Also Recommend
---