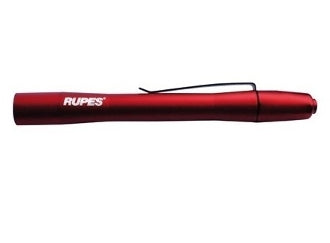 RUPES LL 150 Swirl finder pen light
The Rupes Swirl Finder Pen Light will help you easily spot swirl marks, scratches, holograms, and other imperfections in the paint! Under most normal lighting conditions these imperfections can be difficult, if not impossible to see. This is where this little pen light comes in handy! This little light packs a powerful punch with extremely bright 140 lumens of LED light. Simply shine this flashlight onto the paint and find out what kind of imperfections you will be dealing with. It is incredibly small, lightweight, and easy to use. It features a push-button tal-cap switch, which allows you to easily turn it on and off with one hand. It can clip on to your shirt or pants easily so you never have to put it down on the ground and it's always with you. This is also a great tool for professional detailers to keep handy when inspecting a clients vehicle, you can even store it in your glove box. If you are looking for a quick, easy to use, powerful swirl finding machine, the Rupes Swirl Finder Pen Light is a great choice!


Features:

• Extremely bright LED light;
• Luminous flux: 140 lumen;
• Optimized light spectrum for paint inspection;
• Adjustable Focus (10 - 70 degrees);
• Diameter 16mm, Length 148mm;
• Clip for clipping into a shirt pocket/suit pocket.
---
We Also Recommend
---