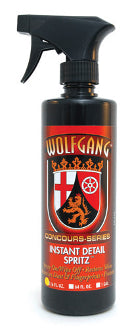 Wolfgang Instant Detail Spritz (16 oz)
Wolfgang Instant Detail Spritz (16 oz)
Restore a just-detailed gloss to any vehicle with Wolfgang Instant Detail Spritz. The polymer, water-based detail spray revitalizes existing paint protection in minutes to recreate the striking impression of a freshly detailed vehicle.
Wolfgang Instant Detail Spritz is a water-based detailer, built around the polymer structure of Wolfgang Deep Gloss Paint Sealant 3.0. Allow the detailer to cure for at least an hour before applying another coat.
Wolfgang Instant Detail Spritz performs even in hot, humid climates without streaking, cloudiness or hazy patches. It works exceptionally well on black and red cars, an unusual feat for a true detail spray. Instant Detail Spritz is the perfect wipe down for show cars or in-service limousines.
The lubricating oils in Wolfgang Instant Detail Spritz wrap around dirt and dust to prevent scratching as contamination is wiped off the paint. This ultra-slick detailer leaves paint looking healthier, with deeper colors and a silky texture.
---
We Also Recommend
---